I can't hold it in: the love angle behind this story surprised me! The one I thought would be the hero…turned out to be a non-hero. A great guy, but not our hero. Hmm. If that isn't incentive to read the other books to find out who our hero is, nothing else is!
Give me a heroine who likes to cook/ bake in first person voice and character that takes action on the page and I'm so there!
This novel isn't as much romance as I thought it would be and really I'm okay with that, because sometimes it's fun to just read a story about a contemporary girl who's trying to make a go of it. Lexi personifies so many young women today, including myself and her quirky view on life…and often desperation had me smiling and moaning in "oh yes, I hear ya!"
French makes everything more delectable and smattering just enough of the language through the book gave it a fun and romantic flair. Book two she actually travels to France…methinks I might have to travel along with her.
Beginning to end I was charmed by Lexi and motivated by her triumphs and struggles. A cute and enjoyable contemporary novel. I think I might get the rest of the series. Can't really beat $2.99 a book. ;-)
This review is my honest opinion. Thanks to the author for my copy to review.
Think you might want to read this book?
(please check price before hitting purchase. :-)
*~*~*~*~*~*~*~*~*~*~*~*~*
More about the novel...


Lexi Stuart is at a critical crossroads. She's done with college but still living at home, ready to launch a career but unable to find a job, and solidly stalled between boyfriends.
When a lighthearted conversation in French with the manager of her favorite bakery turns into a job offer, Lexi accepts. But the
actual
glamour is minimal: the pay is less than generous, her co-workers are skeptical, her bank account remains vertically-challenged, and her parents are perpetually disappointed. Her only comfort comes from the flirtatious baker she has her eye–but even may not be who he seems to be!
So when a handsome young executive dashes into the bakery to pick up his high profile company's special order for an important meeting–an order Lexi has flubbed– she loses her compulsion to please. "What am I going to do?" he shouts. "Let them eat cake!" she fires back with equal passion and a nod to Marie Antoinette. And then, something inside Lexi clicks.
Laissez la révolution commencer!
Let the revolution begin! Instead of trying to fulfill everyone else's expectations for her life, Lexi embarks on an adventure in trusting God with her future–
très bon!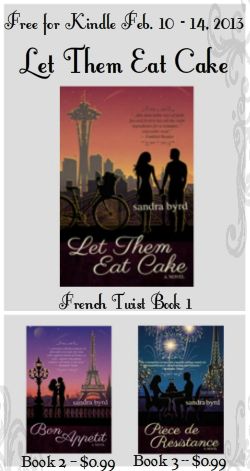 Check out the celebratory giveaway going on at Sandra's site right now too!