Is it real?? Pinch me someone please! Because I can't believe the loooong wait is over and the blog party BASH for an ENTIRE week leading up to the BLOWOUT on my anniversary day is NOW! I have been blogging an entire year. It blows me away really. Something I have loved doing so much has given me so many wonderful results. I feel truly blessed.
I have SO MUCH happening this week! Are you sure you are ready?? Because it will be one wild ride and you won't want to miss one minute of it!!
Today to kick off my PARTY for the week, I have two of my favorite authors here!
Janice Thompson
and
Laura Frantz
! Give 'em a warm hand!
What is your favorite party memory?
Janice: When my daughter Megan turned 16 (wow, was it really ten years ago?) we threw the party of the century. I love theme parties and so does she, so we came up with a '50s sock-hop extravaganza. We removed all the furniture from the living room so the kids could be-bop to the tunes of Elvis, the Platters, etc. And we hung up '50s décor all over the place. We turned our kitchen into a '50s diner (calling it "Sweet Sal's") and put up a menu. The kids could order burgers, fries, hot dogs, shakes and malts. Everyone at the party wore '50s attire. The chicks and cats were too cool for words, daddy-o! And we had a special "Photo-Op" area, where kids could have their photos taken, sipping on faux malts/shakes. The whole thing was a rousing success!
Laura:
My favorite party memory is from age 7 but I don't remember a thing about it! I do remember the feeling of the party. I felt like a princess and remember saying, "Seven must be magic because that is how I feel right now." So the very number has made me smile ever since. My mom can't remember what happened at that party either. Maybe I got a best loved book as a gift or something
If you could host any kind of party, what would it be like?
I've had the chance to host many of my favorites: '50s sock-hop, '40s swing, Hawaiian, garden party, Italian-themed, and so on. I've always told my friends that if I ever re-marry, I'm going to throw the party of the century. The bridesmaids and groomsmen will wear attire from the '40s – present. (I don't want to see any of the dresses before they walk the aisle, and can you even imagine the tuxedos the guys will come up with?) The reception will be a hodge-podge of foods and music from all of those time periods. If it ever happens, it's going to be a blast!
Laura:
If I could host a party it would be a book party where everyone came in period costume and brought their favorite book! In my case I'd have to bring a wheelbarrow and would be wearing an 18th-century gown and hat.
What is your favorite cake?
I bake wedding cakes. (I'll be baking one soon for a friend, in fact.) My favorite cake to bake is white with strawberry filling and cream cheese frosting. It's a big hit at events. (Just made one this past weekend for my granddaughter's 4th birthday. See attached photo.) My favorite cake to eat is Italian Cream Cake. I've always told my daughters, "If you don't believe in resurrection from the dead, do this: lean over my coffin and whisper the words 'Italian cream cake.' If you see me come shooting out, you'll be convinced!"
This Arial-themed cake was a lot of fun. The turrets are ice-cream cones. The doors are cookies with a piece of licorice for a knob. The waves are made of fondant. (See the Swedish fish jumping out of the waves?) The octopus are my favorites! They're gummies. I bought a big container of them. The "coral" is really rock candy and the sea-shells are made of fondant. The only non-edible things on the cake are the cut-outs of Arial, the little rubber fish and the tiara on top. The kids devoured this cake at Maddy's "Under the Sea" party. The top two layers were white with strawberry filling (and cream cheese frosting). The bottom layer was milk chocolate with cream cheese frosting). Yum!
Laura:
My favorite cake is Red Velvet. Every Christmas I bake one and my boys call it Jesus's birthday cake. It's a sweet tradition that helps keep the meaning of the season in mind.
What would be the perfect gift to give or receive?
I'm more of an "acts of service" person than a gift-giver (or receiver). I honestly think the best gift you can give someone is the gift of your time/attention. However, if we're talking about party gifts, I'd have to say that making something memorable for the birthday girl (or guy) is always fun. My friend Patti once gave me a birthday gift that I'll never forget. It was a bad filled with all sorts of little gifts, but each one had a special significance to our friendship. It took about ten minutes to open all the gifts, (and some were just trinkets from the dollar store), but I'll never forget it because those gifts took me on a journey through our friendship/relationship and reminded me just how much she cares about me.
Laura:
My perfect gift to give or receive would be the joy of salvation. That might not be the answer you had in mind but I'm stuck on the word "perfect" and not even a book fits that category, unless it's the Bible. Truly, salvation is the ultimate gift to give or receive.
Describe your party attire
As I mentioned above, I love theme parties, so my attire usually goes with the theme of the party. When we did the '50s sock-hop, I wore a poodle skirt and white blouse. I had to look the part, you see! (I was playing the part of "Sweet Sal," the woman who owned the '50s diner). I'm a firm believer in taking my guests back in time, so whatever theme I'm using. . .the costume will follow suit (pun intended).
My party attire would be a heavenly silk 18th-century gown with a matching straw/silk hat - a blue taffeta with antique French net lace at the sleeves like the one I blogged about recently (see photos/October16!). Of course I'd have to stuff myself in a corset/stays, petticoatsrest so probably couldn't eat any cake, but there you have it
**************************************************************
Love the answers ladies!! Thank you so much for being here today!
Of course what kind of party would I be hosting if there weren't prizes?? In fact there will be prizes ALL WEEK LONG. Be on the watch. Every single post this week will publish at midnight. The person that comments on each post FIRST will be given an extra entry into the BLOWOUT BASH on Sunday!
And I have a winner of those that took my blog party button, thank to everyone who did. The person winning their choice of one of my gently read novels is... Deana!!!!
And now for todays GIFTS! All winners will be announced on Sunday (the 21st) in the evening.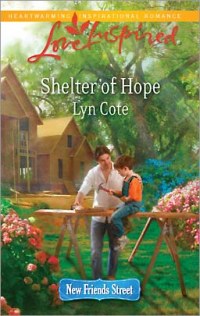 I am offering to one winner a gently read copy of Lyn Cote's Shelter of Hope
And Janice (THANK YOU!!!) is offering a copy of her latest fun filled novel, Love Me Tender!!
Enter all week long for your chance to win one of these books!
Share your favorite party memory for your chance to win today!